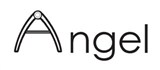 Angel Complete Package by BabyDan, White
With this complete 3 in 1 package, you get a cradle and mattress, recliner, seating unit, cushion, and the unique Angel frame. All the products can easily be clicked on and off the frame so you can change between the three products to suit your needs.
The Angel Nest is the cradle, which serves as a nest where your newborn baby can sleep safely. The Angel Rest Recliner gives you an angle-adjustable bouncer that your child can rest in and be feed in when he or she is still too little to sit up unaided. When your little one is old enough to sit without help, you can use the Angel Feast, which is a high Chair with an adjustable footplate that can be removed.
Angel Complete Package by BabyDan, White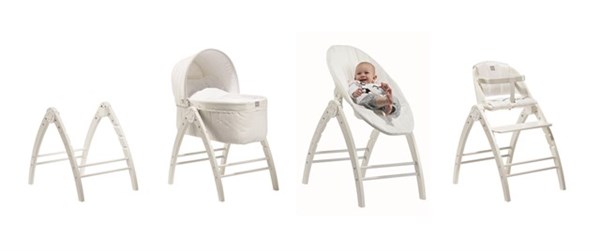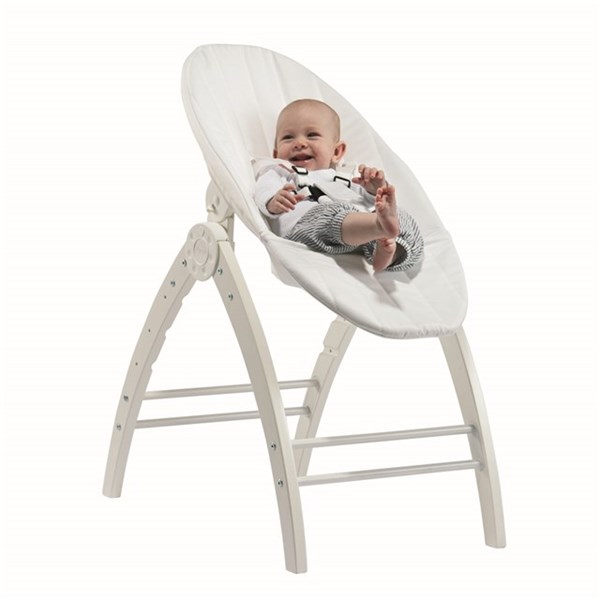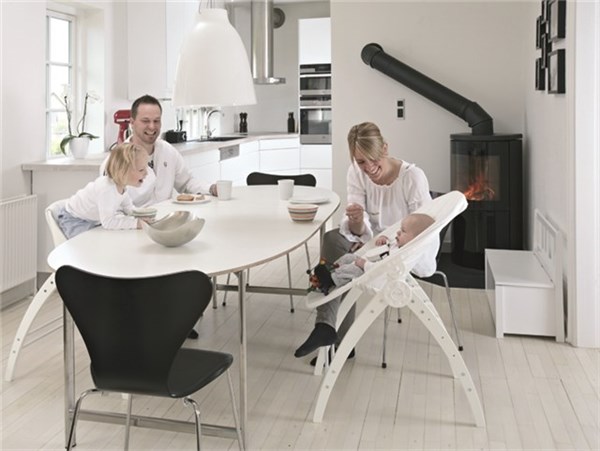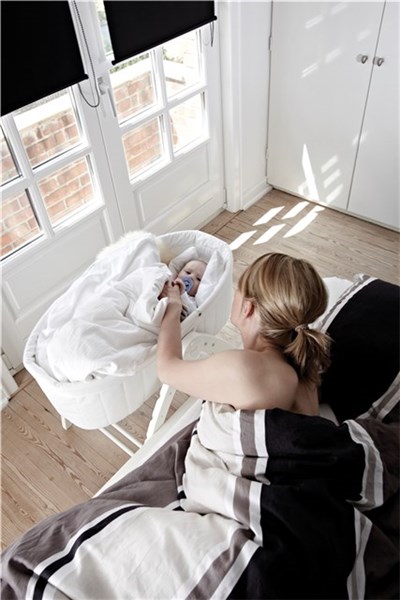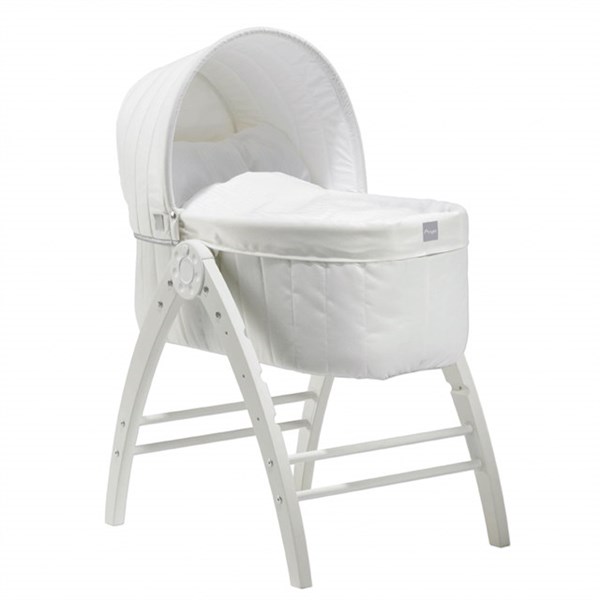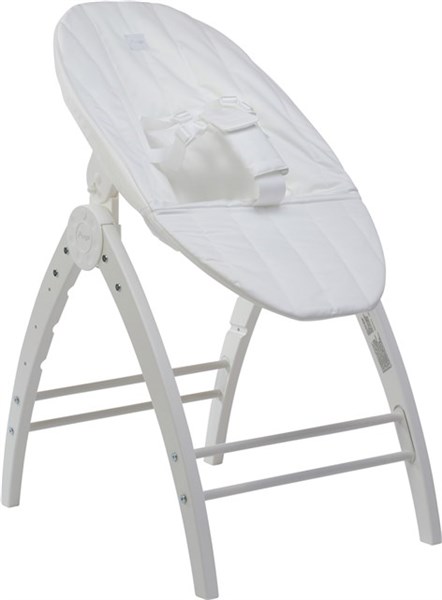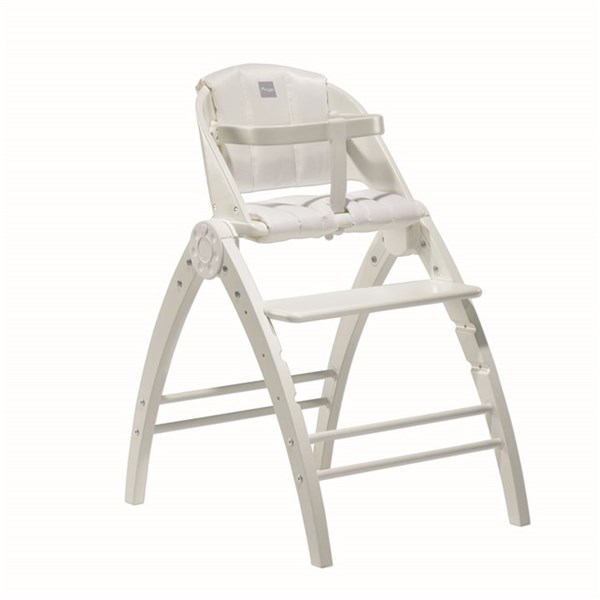 Specifications
Color
White
Item Number
# 2651-04-01-02
Safety Standard
EN 14988-1:2006
Warnings
Angel Brace:
Warning: Make sure that any harness is correctly fitted
Warning: Do not use the high chair unless all components are correctly fitted and adjusted
Warning: Be aware of the risk og open fire and other source of strong heat, such as electric bar fires, gas fires, etc., in the near vicinity of the chair
Warning: Do not leave the child unattended
Important: only suitable with the Angel Feast seat unit
Important: Do not use the high chair until the child can sit unaided
Important: Do not use the high chair of any part is broken or missing
Important: Do not use accessories or replacement parts other than those approved by BabyDan
Care of your product: clean wood, plastic and metal parts using warm water and a mid detergent. Use a soft cloth to avoid scratches. Wipe dry with a firmly wrung cloth. Never use solvents, chemicals sourcing powders r sharp tools in connection with cleaning the wood, plastic and metal parts

Angel Stand:
Important! Read the instructions carefully before use and keep them for future reference
Warning: Use only on a firm, horizontal level and dry surface
Warning: Do not let other children play unattended near the Angel Nest carry cot and Angel Stand
Warning: Do not let other children play unattended near the Angel Rest reclined cradle and Angel stand
Warning: Do not use if any part is broken, torn or missing
Important: when the stand is not in use, it must be folded or put away
Important: Only the Angel Nest / Rest / Feast are suitable with this stand
Important: Do not use accessories or replacement parts other than those approved by BabyDan
Care of your product: clean wood, plastic, and metal parts using warm water and a mild detergent. Use a soft cloth to avoid scratches. Wipe dry with a firmly wrung cloth. Never use solvents, chemicals sourcing powders or sharp tools in connection with cleaning the wood, plastic, and metal parts

Angel Seat and foot rest
When used together with the stand and the brace the combined product complies with EN 14988:2006 and A1:2012
Warning: Make sure that any harness is correctly fitted
Warning: Do not use the high chair unless all components are correctly fitted and adjusted
Warning: Be aware of the risk of open fire and other source of strong heat, such as electric bar fires, gas fires, etc., in the near vicinity of the high chair
Warning: Do not leave the child unattended
Important: Only suitable with the Angel stand
Important: Do not use the high chair until the child can sit unaided
Important: Do not use the high chair if any part is broken or missing
Important: Do not use the accessories or replacement parts other than those approved by BabyDan
Care of your product: Clean wood, plastic and metal parts using warm water and a mild detergent. Use a soft cloth to avoid scratches. Wipe dry with a firmly wrung cloth. Never use solvents, chemical sourcing powders or sharp tools in connection with cleaning the wood, plastic and metal parts

Angel Nest:
Warning: This product is suitable only for a child who cannot sit up unaided, roll over and cannot push itself up on its hands and knees
Maximum weight of the child: 9 kg
Warning: The Angel Nest carry cot is only suitable to use on the Angel Stand
The dimensions of a suitable mattress is 290x750x40 mm
When used together with the stand the combined product complies with EN1466
Features
3 in 1 package with all the Angel products: Angel Nest, Angel Rest, Angel Feast, Angel Frame
Includes mattress and cushion
Angel Nest: H: 95 cm, B: 46 cm, L: 80,4 cm
Angel Rest: H: 87 cm, B: 46 cm, L: 65
Angel Feast: H: 81,8 cm, B: 46 cm, L: 64,7 cm