Jump & Play by BabyDan – Hopscotch foam playmat
The classic hopscotch redesigned as a soft and insulating foam playmat. Perfect for many hours of play, where the little toddler can practice balance and motor co-cordination when crawling, walking or jumping around on the floor. The play mat can also be used as a puzzle because the tiles are slightly different and fit together in a certain way. You can also remove the numbers and let the child find and match the holes in the tiles with the right number - another fun way to practice the numbers from 1-10.

This play mat is 1.4 cm/0.5 inches thick and made of soft foam of good quality, which insulates against impact, sound, cold and heat. A nice place to sit, play, jump, dance or crawl for both big and small.

The gray colours creates a calm expression but still with a clear contrast between the light and dark colour. The hopscotch foam playmat comes in two colour combinations: either with 5 light and 6 dark tiles or vice versa. Supplied assorted.

BabyDan foam playmat is made of 100% PE and contains no plasticizer.
The playmat meets all applicable requirements and does not contain PVC, phthalates, formaldehyde and formamide.
Tested 0+ months.
Complies with chemical test
Product standard EN71-1 EN71-2 EN7

It is recommended to clean the play floor with a wrung-out soap cloth and ventilate the play floor a little extra outside.
Jump & Play by BabyDan – Hopscotch foam playmat
New in stock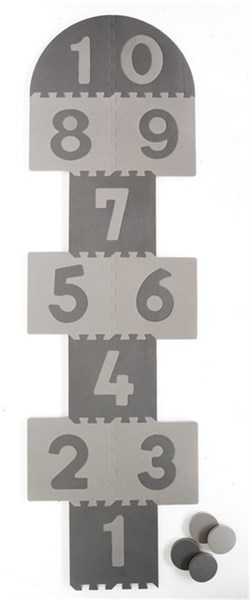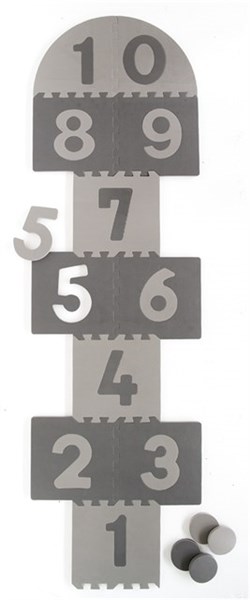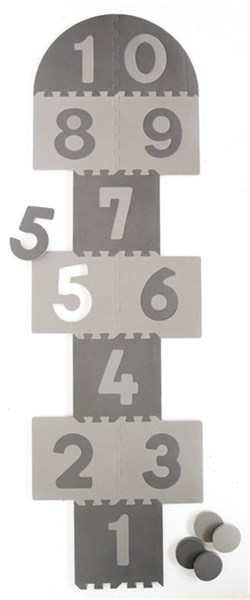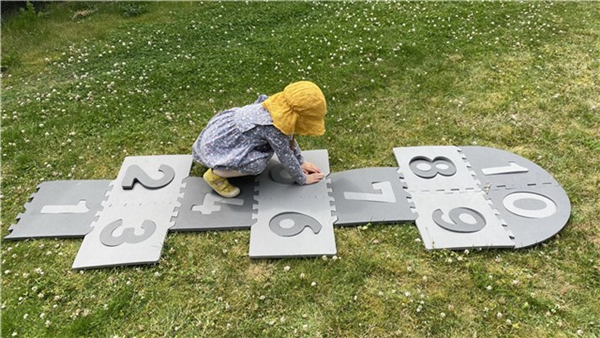 Specifications
MattressThickness
0.55"
Color
Grey
Item Number
# 1000-23
Safety Standard
EN 71-1
EN 71-2
EN 71-3
Features
Playmat for safe playing and practicing
Thick foam that is shock, sound, and cold and heat insulating
Can be used as the child grows
Playmat made of soft foam
keyboard_arrow_up