At BabyDan we strive to create products that are sustainable enough to be Cradle to Cradle Certified®
Because we believe the concept of safety makes no sense unless we also take responsibility for the environment in which children grow up and the world they will inhabit tomorrow.
As a manufacturer, we have a special responsibility for ensuring responsible production.
We need to manage our ressource usage carefully. We need to minimize our environmental impact. We need to encourage and support social fairness.
As a guideline for this, we use the requirements for being Cradle to Cradle Certified®. We use them as our aiming points in the process of making our products more and more sustainable every day.
So far we've achieved
Cradle to Cradle Certified® certifications for:
All our metal and wooden safety gates
Our entire range of metal and wooden safety gates have achieved Cradle to Cradle Certified® Bronze.
This makes BabyDan the first - and still only - manufacturer of Cradle to Cradle Certified® safety gates.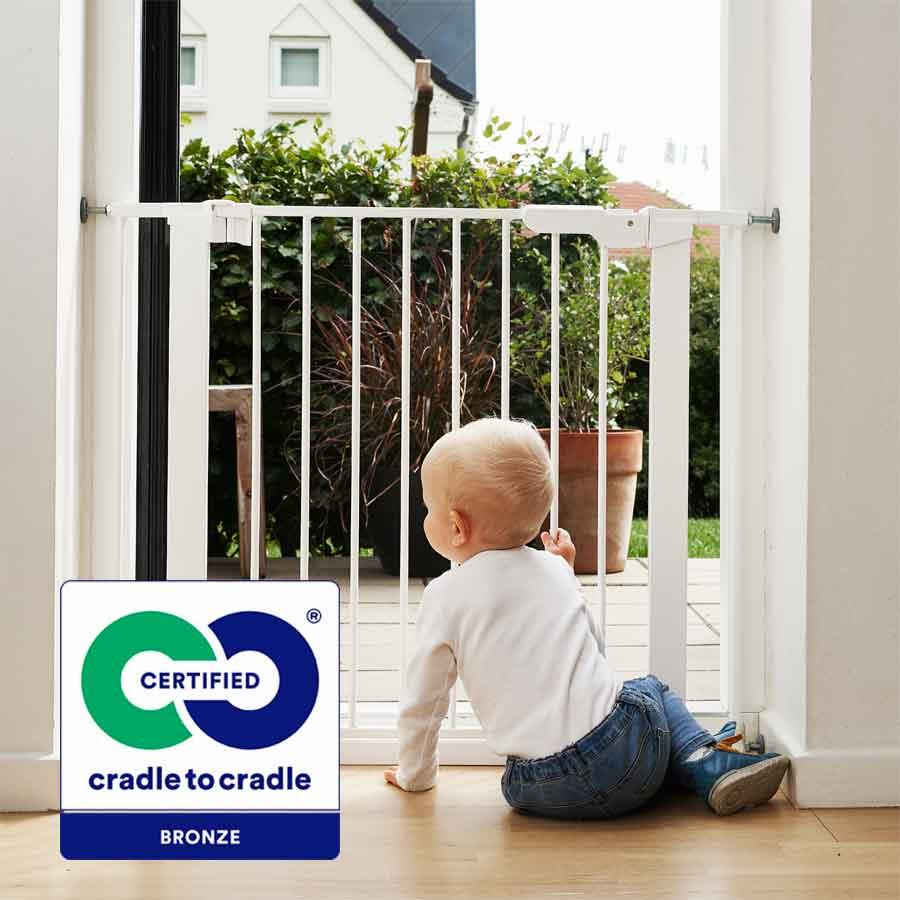 The boxes for all our small home safety products
Normal packaging can consist of up to 25 % glue, colour and other chemicals that can't be reused.
But all the boxes for our small home safety products are Cradle to Cradle Certified® Silver, 100 % bio-degradable, reusable and won't leave behind any harmful substances.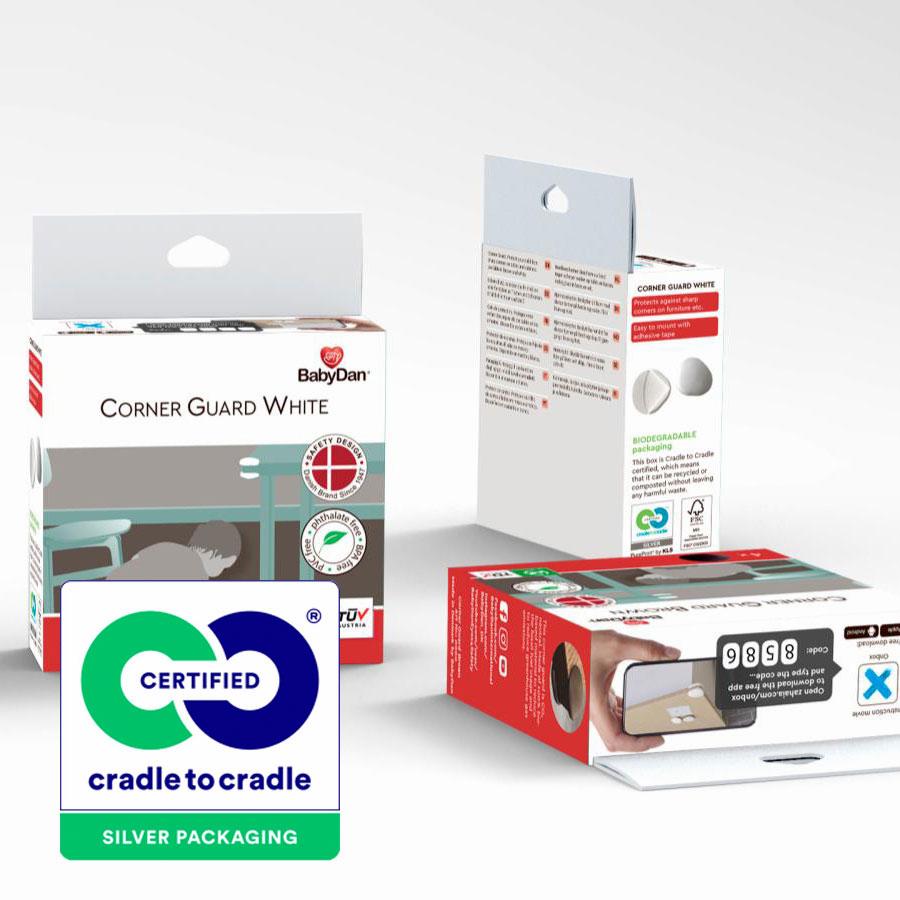 What does Cradle to Cradle Certified® mean?
The Cradle to Cradle Certified Products Program is the world's most ambitious, actionable standard for designing and making products today in ways that enable a healthy, equitable and sustainable tomorrow.
The certification verifies that products are safe, circular and responsibly made.
Unlike other certifications, which tend to focus on a singular measure of sustainability, Cradle to Cradle Certified assesses all aspects of product design and manufacturing by evaluating a product's performance across five categories.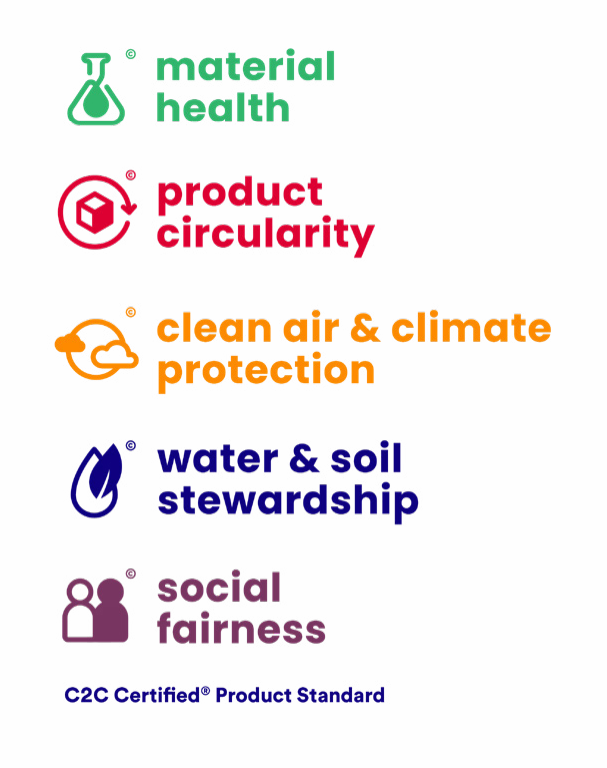 Cradle to Cradle Certified® enables companies to:
Prioritize action across five critical aspects of sustainability
(Material Health, Product Circularity, Clean Air & Climate Protection, Water & Soil Stewardship, Social Fairness).
Enact roadmaps for change, from product innovation to operations.
Transform business models, systems and collaboration throughout the value chain.
Verify sustainability performance and measure progress.
Lead industry transformation towards a safe, circular and equitable future.
Cradle to Cradle Certified is an independent product certification awarded by the Cradle to Cradle Products Innovation Institute.
Companies must work with an independent assessment body to assess and verify a product's performance across each of the Cradle to Cradle Certified performance categories. And the Cradle to Cradle Certified certification must be renewed every two years
---
How does BabyDan work with those five critical areas?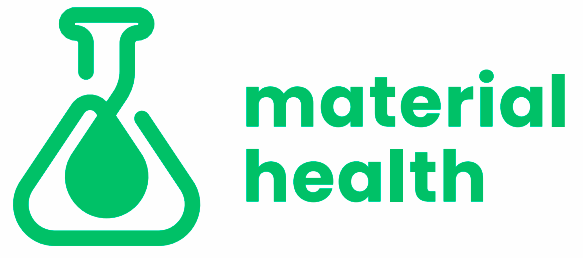 Assessment of chemicals and materials in products to protect human health and the environment plays a significant role in BabyDan's sustainable development.
To ensure safe working conditions our painting facilities run on 'green chemicals' approved harmless.
BabyDan safety gates are made in compliance with REACH regulations, PVC-free, and powder painted solely with the use of degassed plastic material that the human organism does not absorb. This means that your child will not be subject to hazardous chemicals when they cool their gums on the metal.

Optimization of materials to support active cycling, including circular sourcing and circular design is an important part of what sustainability means to us.
We closely monitor our consumption of water, electricity and raw materials, and we recycle as much as possible. The handling of plastic is set in a firm framework, where we sort all materials and use surplus plastic from our manufacturing for moulding.
We have built and incorporated a closed-loop water system. The water we use in our production is purified, recycled, and reused repeatedly. Every single drop counts.
Clean air & climate protection add

BabyDan optimizes product manufacturing to support a positive impact on air quality, the renewable energy supply, and the balance of climate-changing greenhouse gases.
The forests are the lungs of the planet. Trees filter the air we breathe and the water we drink. We are aware, that we need a world rich in forests to fight climate change, which is why our wooden safety gates are made of wood from FSC forests.
The electricity we use in BabyDan production is CO2-neutral power supplied by Danish wind turbines. We are optimising our processes to reduce energy consumption for cooling both directly and indirectly.
To support the electric car infrastructure BabyDan has installed chargers allowing employees and guests to conveniently charge their cars.
Water & soil stewardship add

We ensure optimization of product manufacturing to protect watersheds and soil ecosystems and ensure clean water and healthy soils are available to people and all other organisms.
We want to help solve the most widespread problem affecting the marine environment. To ensure that no plastic ends up in nature, we have filters on our drains and we work systematically to prevent plastic pollution.
BabyDan is an active member of Operation Clean Sweep to ensure that plastic waste is recycled and that no plastic from our production ends up in the ecosystems. Furthermore, we support Plastic Change. The environmental organization makes a great effort to break the curve for the increasing amount of plastic waste.
80% of terrestrial species live in forests and more than a billion people rely on the forests for their livelihoods. To protect nature and soil BabyDans wooden safety gates are FSC certified. This ensures traceability and help protect the forests for future generations.

Optimization of product manufacturing to uphold human rights and apply fair and equitable business practices is how we ensure social fairness.
BabyDan wooden safety gates are FSC certified. FSC also gives us the guarantee, that the people working in the forests are ensured proper working conditions and fair wages.
Audited and approved according to SMETA (Sedex Members Ethical Trade Audit), BabyDan support each of our supply chain partners to meet our high demands on environmental safety and safe working conditions.
Learn more about Cradle to Cradle Certified
Cradle to Cradle Certified® is a registered trademark of the Cradle to Cradle Products Innovation Institute. To learn more about Cradle to Cradle® go to www.c2ccertified.org
---
But Cradle to Cradle Certified is not the only certification that we've achieved
The work we put into creating sustainable products by ensuring responsible production is not only limited to the requirements of Cradle to Cradle Certified.
We've enrolled on many other certification programmes to ensure that we always live up to a long list of ambitious goals for sustainable and responsible production.
This means that we've also achieved the following certificates:
All our wooden safety gates are FSC® certified (FSC-C130052).
When you buy wooden safety gates that are FSC-labeled, it means that you contribute to ensuring proper conditions for all parties in the process from forest to safety gate.
In other words, you are helping to ensure the consideration for plant and animal life and that no more trees are felled than the forest can handle.
At the same time, it is ensured that all the people involved in tree felling, transport, and production of the wood are guaranteed a proper wage and good working conditions.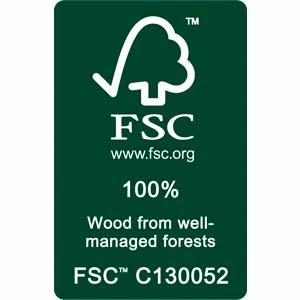 All our mattresses and sheets are Oeko-Tex certified
BabyDan's selection of mattresses and sheets is mainly targeted at children between 0-3 years, and therefore, us here at BabyDan need to ensure that our products are completely safe for our customers.
This is why all of BabyDan's mattresses and sheets are Oeko-Tex certified.
Oeko-Tex is a world-leading registered trademark which serves as your guarantee as a consumer that a product does not contain any substances that are harmful to human health or the environment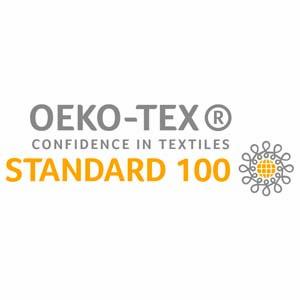 BabyDan is an ISO 14001 certified company
The certification is proof that BabyDan as a company has the resources to reduce its environmental footprint and that we respect our environmental obligations.
It means that BabyDan is working seriously with environmental targets and to minimise its environmental footprint as well as reducing pollution, waste and undesirable emissions to the environment.
ISO 14001 is the most recognised international standard for environmental management systems.
BabyDan is SMETA audited
BabyDan is audited by SMETA concerning social responsibility and ethical business.
SMETA prevents corruption and forced labour and sets several requirements for the company. It's your guarantee that both we and our suppliers work for equality, freedom, health and rights for employees. As a consumer, you can have confidence not only in our products but also in the way they are made.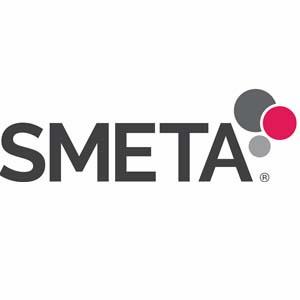 All our sales packaging is certified by Der Grüne Punkt
The brand "Der Grüne Punkt - Duales System Deutschland GmbH" is protected worldwide and is one of the most well-known brands.
It indicates that the manufacturer or retailer who puts packaged products into circulation assumes responsibility for the disposal of their empty sales packaging and that the packaging can be disposed of in a sustainable way.
And this is the case for all our sales packaging. They all have "Der Grüne Punkt". Look for the logo on the packaging.