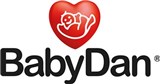 BabyDan ALMA Safety Gate, 89 cm/35", White
Wall-mounted
One of our most popular gates are now also available in black with a new matte non-reflective finish. BabyDan Alma is built on an innovative, patented, and well-proven design that makes it both easy and aesthetic pleasing to baby-proof your home. It meets the highest safety standards and is tested to withstand being used every day for years without compromising on safety.

The main feature of BabyDan Alma is the auto-retractable barrier.
When the gate is released, it automatically folds back, creating a wide opening for easy passage.
When closed, the gate makes a solid barrier with a clean, simple, and modern look.

Other noticeable features are:
- No trip hazards due to no threshold – makes it perfect for stairs and hallways.
- The expandable design ensures a perfect fit in both narrower and wider spaces.
- Easily operated with just one hand in a simple pull and press movement. No need to put down your child or what else you might be carrying on the other arm.
- Free from PVC.

Setting up the BabyDan Alma is easy. Mount the wall mounts with screws, adjust the length of the barrier and attach it to the wall mounts. That's all. In addition to the printed guide, we also provide step-by-step video instructions for the installation via the free Onbox App.

BabyDan Alma is made in Denmark by BabyDan from a patented design and an improved formula of high-quality, robust, and durable ABS plastic and nylon. This new formula gives the gate a matte non-reflective anti-scratch finish.

To ensure children's safety BabyDan Alma is tested and approved by TÜV according to the European standard EN1930:2020 and the American standard ASTM F1004-18.

Please note:
- If fitted inside a door frame BabyDan Alma can cover openings between 64.5-89 cm/25.4-35 inches.
With an extra extension (sold separately) it can cover openings up to 113.5 cm/44.6 inches.
- If fitted on the outside of a door frame BabyDan Alma can cover openings between 55-79,5 cm/21.7-31.2 inches.
With an extra extension (sold separately) it can cover openings up to 103.5 cm/40.7 inches.
- If installed on top of stairs there needs to be at least 9 cm/3.54 inches from the gate's wall mounts to the edge of the top step.
If extended with an extra extension (sold separately) the distance must be a minimum of 13 cm/ 5.12 inches.
- This product is a wall-mounted safety gate that requires to be mounted with screws into a wall or door frame for correct and safe installation. Screws for wood are included in the package.
- If installed on a wall with skirting boards, a spacer on the wall that is at least as thick as the skirting boards is required for correct and secure installation.
BabyDan ALMA Safety Gate, 89 cm/35", White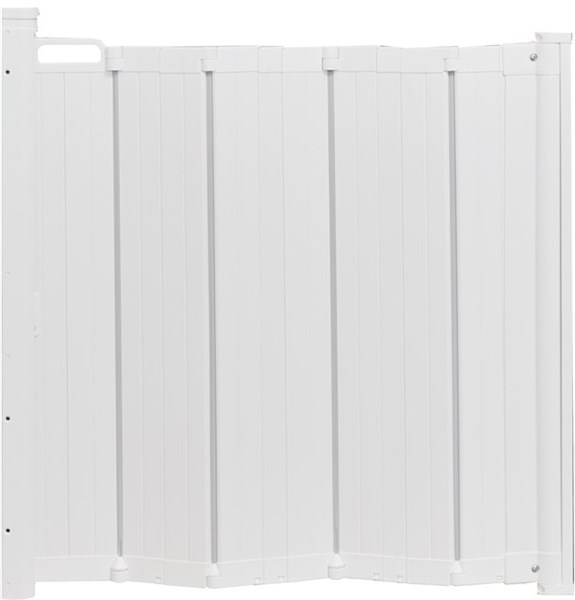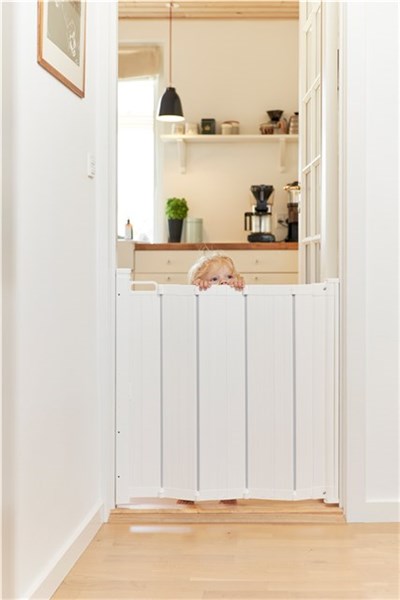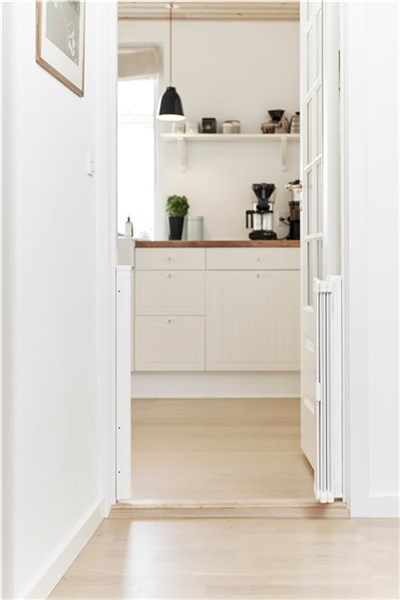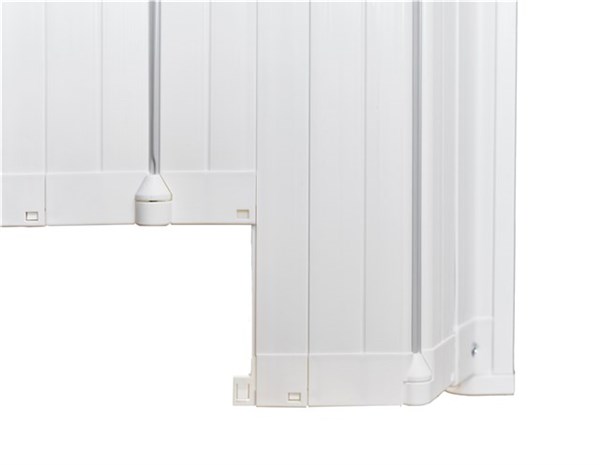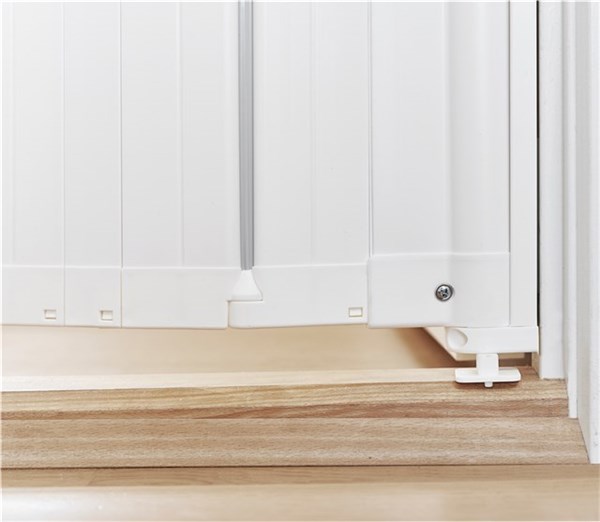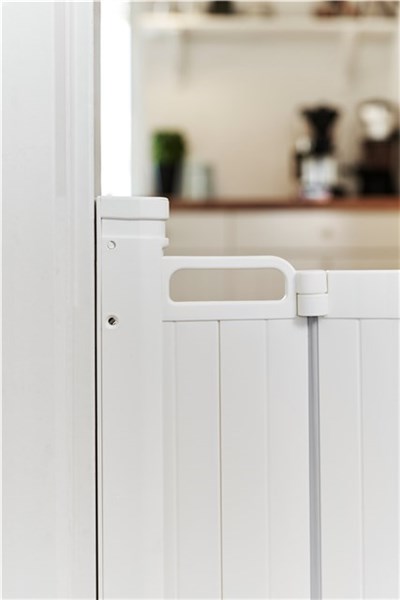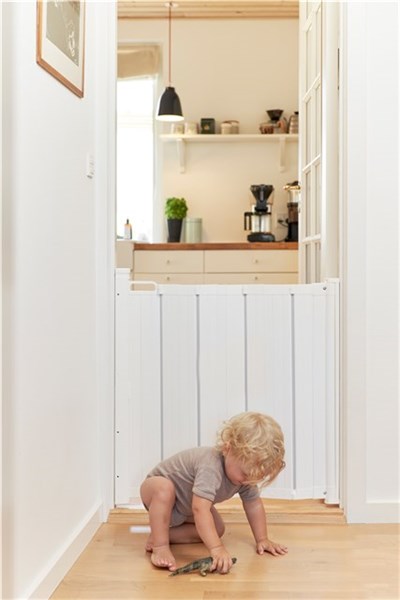 Specifications
Type of mounting
Wall-mounted
Material
ABS (Acrylonitrile butadiene styrene), PA6, TPU and steel. PVC-free
Color
White
Item Number
# 500780
Safety Standard
EN 1930 : 2011
Warnings
Important! Read and follow these instructions carefully and keep for future reference
Warning: Incorrect installation can be dangerous
Warning: Do not use the safety barrier if any components are damaged or missing
Warning: the safety barrier must not be fitted across windows
Warning: If the gate is mounted with 2 and 3 extensions – never use without wall cups
Be aware of hazards associated with children using or climbing over the safety barrier. Never climb over the gate. Never allow children to swing on the gate
This safety barrier is for domestic use only
When fitted as instructed, between two clean structurally sound surfaces, this product conforms to EN 1930:2011
Always place the gate directly on the floor/stairs
If the safety barrier is used at the top of the stairs, it should not be positioned below the top level
If the safety barrier is used at the bottom of the stairs, it should be positioned at the front of the lowest tread possible
Please note that this product not necessarily prevents accidents to happen. Never leave your child unattended
This gate is designed for children up to 24 months. However, this guidance should be constantly monitored against your child's own development, as individual children's skills do develop at different ages
If red indicator is visible after mounting, the barrier must not be used in this particular opening, as the opening is unable to withstand the minimum pressure required
If mounting onto brick, drywall or other dissimilar surfaces, it may be necessary to mount a smooth surface such as a wooden batten on to the wall
If the gate is damaged or has been exposed to an accident it must not be used again
Only use original spare parts for this product
The safety barrier has a manual closing system
Always check that the safety barrier is correctly closed and locked
The safety barrier should be checked regularly to ensure that it is secure and functioning in accordance with these instructions
This safety gate is made from metal
Only clean using warm soapy water, or a damp cloth. Do not use abrasive cleaners or bleach
Features
Auto-retractable design
Almost invisible when not in use
Easily operated with just one hand
No harmful materials – free from PVC
Screws installation on wooden walls or door frames for wood included.