Even safer with a pet gate
With a pet gate, you can make your home safe for the whole family - including the four-legged family member.
No matter how good friends your child and your dog might be, sometimes it might be necessary to keep them apart. A pet gate is an easy and safe way of separating the dog from a room or an area of the home. It can also be a smart way of providing your dog with its own area in the home where it can feel at ease.
Read on below and learn more about how to select the pet gate that is just right for you.
What is the difference between a safety gate and a pet gate?
At BabyDan, we produce pet gates under the Scandinavian Pet Design brand. All pet gate names include the word "Pet".
A pet gate is higher than a normal safety gate. This allows you to be sure that no matter what kind of dog you have, it will not be able to jump over it.
All of our pet gates have been approved by the latest standards for safety gates, so the pet gates comply with the same requirements as our regular safety gates. This means that you can easily use a pet gate to separate your child from your dog.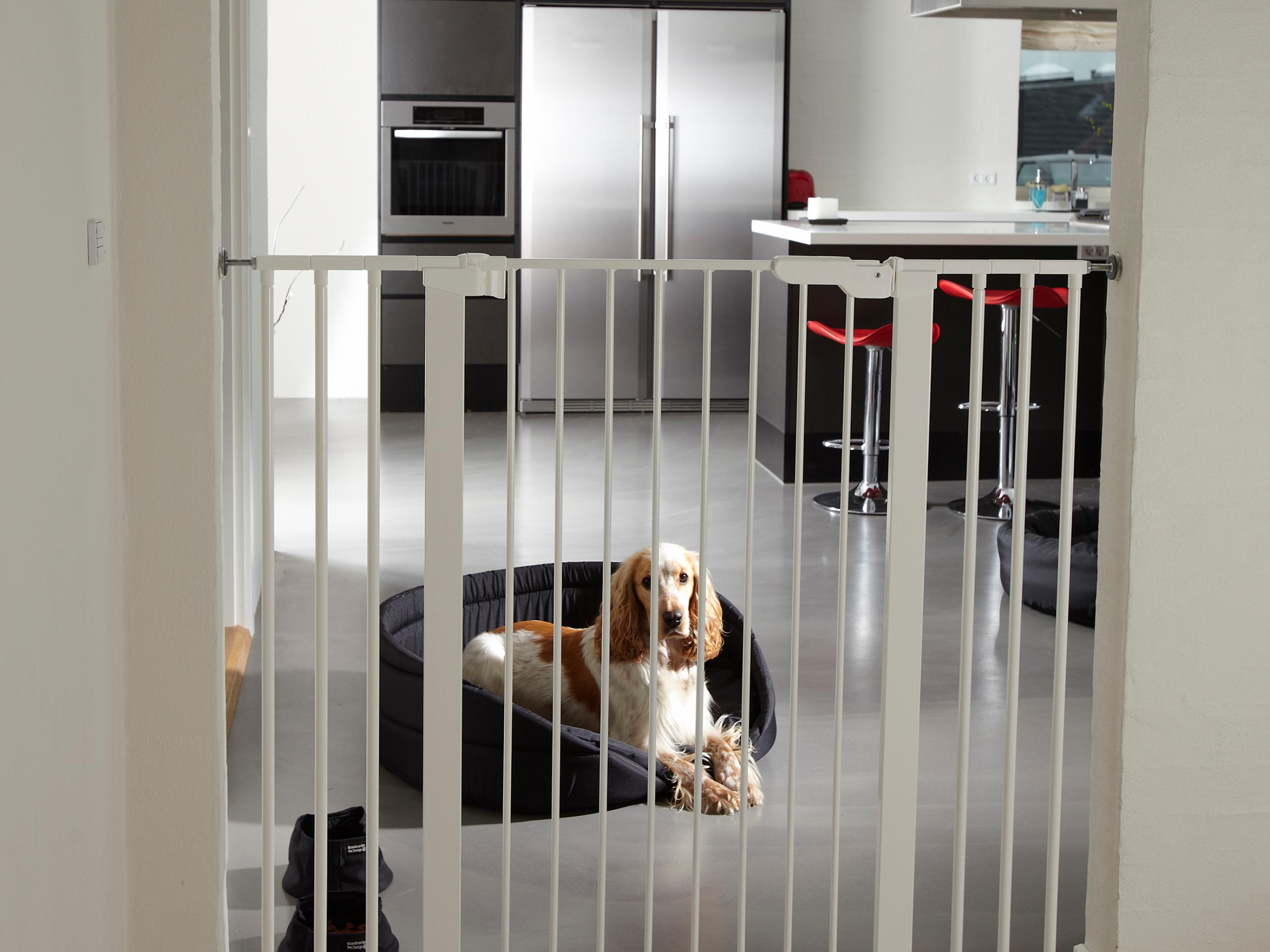 Where can I use a pet gate?
As with a regular safety gate, you can also install a pet gate in many different places around your home and for various purposes.
You can install it in a corridor, a door opening, at the top or bottom of stairs or use it as a room divider. Regardless of how you use your pet gate, it is the best and most practical way to make the home even safer for your dog.
You can install the pet gate in a doorway or a hallway if you want to cordon off areas of the home where your dog is not allowed access. This could for instance be the office or the child room.
You can also install a pet gate in a door opening if you want to create an area for your dog. You could, for example, install a pet gate in the doorway to the utility room, which would also serve as the dog's space. You would then be limiting it to the utility room, while still allowing it to be part of the family's comings and goings.
You can also use a pet gate as a room divider in, for example, the scullery so that you and your dog each have your own section of that room. You can also use a pet gate as a space divider for the kitchen or to section off a part of the living room.
You can also choose to install a pet gate at the top and bottom of the stairs so that the dog does not have access to the stairs. It can be an issue for some dogs to climb and descend stairs, as this might damage their spine and hips.
Regardless of where and how you want to use the pet gate, it is a smart and safe solution since it is a visible boundary for the dog, while allowing the dog to still be part of the household at a safe distance.
How to choose the right pet gate
When you choose a pet gate, it is important that you first measure how wide the gate needs to be. It is also important that you choose a pet gate that suits the height of the dog.
Pet gates from Scandinavian Pet Design are available in heights of 105 cm, 72 cm and 70.5 cm. We recommend that you choose the tallest model if you have a medium or large dog. Then you can be certain that your dog is unable to jump over it. If you have a smaller dog, the pet gates in the two lower models will be perfectly suitable.
You can choose between a pressure mounted pet gate or a wall mounted pet gate. With a pressure mounted pet gate, you avoid having to drill holes in the wall or door when installing it. It is also a smart choice if you want to be able to use it and bring it with you on holiday or to easily remove it when it is no longer needed. It is smart to choose a wall mounted pet gate if you want to be able to extend it to cover a wider area.
All pet gates from Scandinavian Pet Designs are completely free of harmful substances. This means that your dog can lick the gate without getting unwanted chemicals into its body.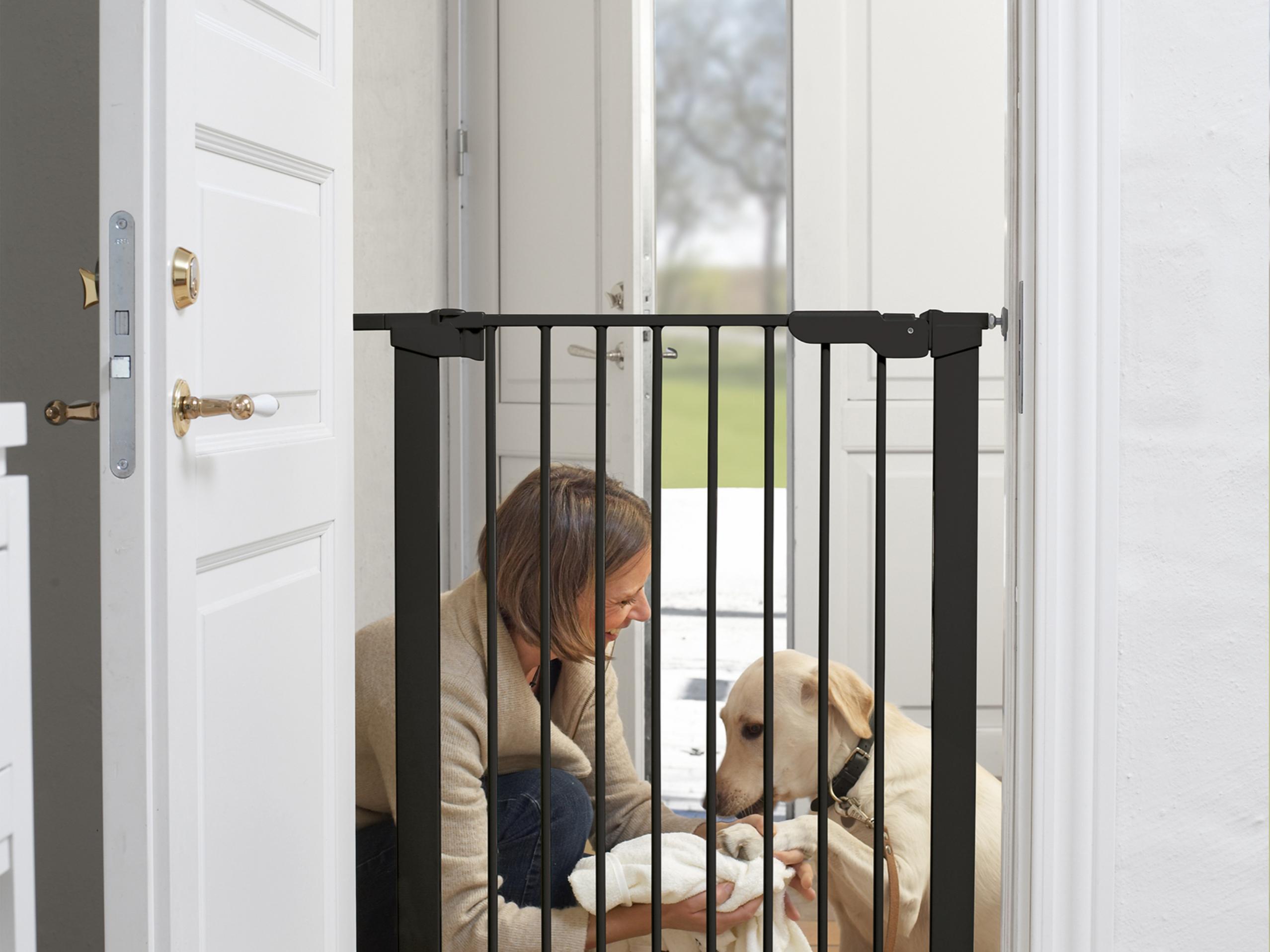 Convert your pet gate to a dog playpen - or vice versa
If you have a Pet Flex pet gate from Scandinavian Pet Design, you can turn it into a Pet rectangular dog playpen, which can also be bought as a dog playpen in a complete set.
A dog playpen is a brilliant idea for a dog while it is a puppy, as it allows the dog to have a safe space to play and rest in. This is a good idea for those times where you cannot keep your eyes on the little furry troublemaker. Then you will not have to worry about it chewing on wires or interacting with other things that could be harmful for dogs.
When your puppy at some point grows out of the dog playpen, you can convert it to a safety gate. This means that you can make use of your Flex pet gate and dog playpen for many years.