We take care of our children and our planet
At BabyDan, we believe that we have a major responsibility to take really good care of our planet. We prioritise sustainable solutions because we believe that sustainability is inextricably linked to safety - we cannot have one without the other.
The world is becoming more focused on sustainability, and we know that you as a consumer are making more deliberate choices than ever before.
Never has there been such a strong focus on ensuring that products are free of harmful substances and that the food we eat needs to be grown in an environmentally friendly and ethical manner.
This is a trend that is particularly strong among families with children, and we support that wholeheartedly at BabyDan - we want to be part of promoting this trend so that our children can have the best, healthiest and safest choices in life.
Therefore, BabyDan is also in the midst of developing several projects that focus on sustainable safety products. We have just introduced a new award-winning safety product range which is free of harmful chemicals and packaged in Cradle to Cradle certified boxes.
We have also launched our first bio-based product, which reduces our use off fossil fuels and has a smaller climate footprint. In our experience, our customers are really embracing our initiatives focusing on environmentally friendly products.
Part of the sustainability movement
At BabyDan, we take climate challenges very seriously, and we are determined to be part of promoting sustainable and climate-friendly trends.
Cradle to Cradle - the world's strictest environmental certification
BabyDan promotes the green transition together with our customers and suppliers. Via international labels, we ensure a better utilisation of resources and the use of more renewable sources of energy. This is why we are working with the "Cradle to Cradle" concept.
In essence, the Cradle to Cradle mindset is focused on designing products from the perspective of their entire lifecycle.
Scandinavians are particularly good at recycling newspapers and ads, but only approximately 75% of all paper is recycled into new paper. The remaining 25% contain harmful chemicals and heavy metals that must be sent to a toxic waste disposal site.
Cradle to Cradle is a guarantee that the printed materials are 100% recyclable and 100% biodegradable. In practice, this means that everything can be composted and used to return nutrients to the soil.
It only takes about 7-8 weeks in a compost file for the boxes to turn into the finest soil, and therefore BabyDan's safety products' packaging does not have any harmful environmental impacts on our planet.
With Cradle to Cradle, the world's strictest environmental certification, we can ensure that the world's resources are used optimally.
The certification is also a guarantee that none of our products contain harmful chemicals or heavy metals, as well as guaranteeing that we are producing our printed materials under as environmentally friendly conditions as possible and in a carbon neutral manner, as we exclusively rely on wind power for our electricity.
The safety products' printed instructions and our product catalogues are FSC certified and Cradle to Cradle certified.
With a whole safety product range packaged in Cradle to Cradle certified boxes, BabyDan has taken a big and crucial step towards a cleaner and more sustainable future.
The cardboard and paper for the boxes are FSC certified and therefore promote sustainable forestry and the protection of ecosystems.
BabyDan takes responsibility for the environment
Driven by our passion and creativity, BabyDan is always ready to go that extra mile to ensure the best possible safety products for your child.
For us, it is about taking care of our common future - our children and our planet. Therefore, we have chosen to produce all of our own products in Denmark, as this allows us to be absolutely sure that all materials and production processes are as environmentally friendly as possible.
For more than 75 years, the design and production processes have gone hand in hand and ensured that we can provide high-quality products to families with children around the world.
As a company, we are based on a long history and proud traditions. BabyDan was the first to produce a safety gate that was tested and approved by accredited testing institutions.
As we are based in Denmark, the Scandinavian lifestyle continues to influence our products - we love thoroughness, functionality and sustainable materials.
We are therefore proud to display "Made in Denmark" on our safety gates which meet the strictest international standards.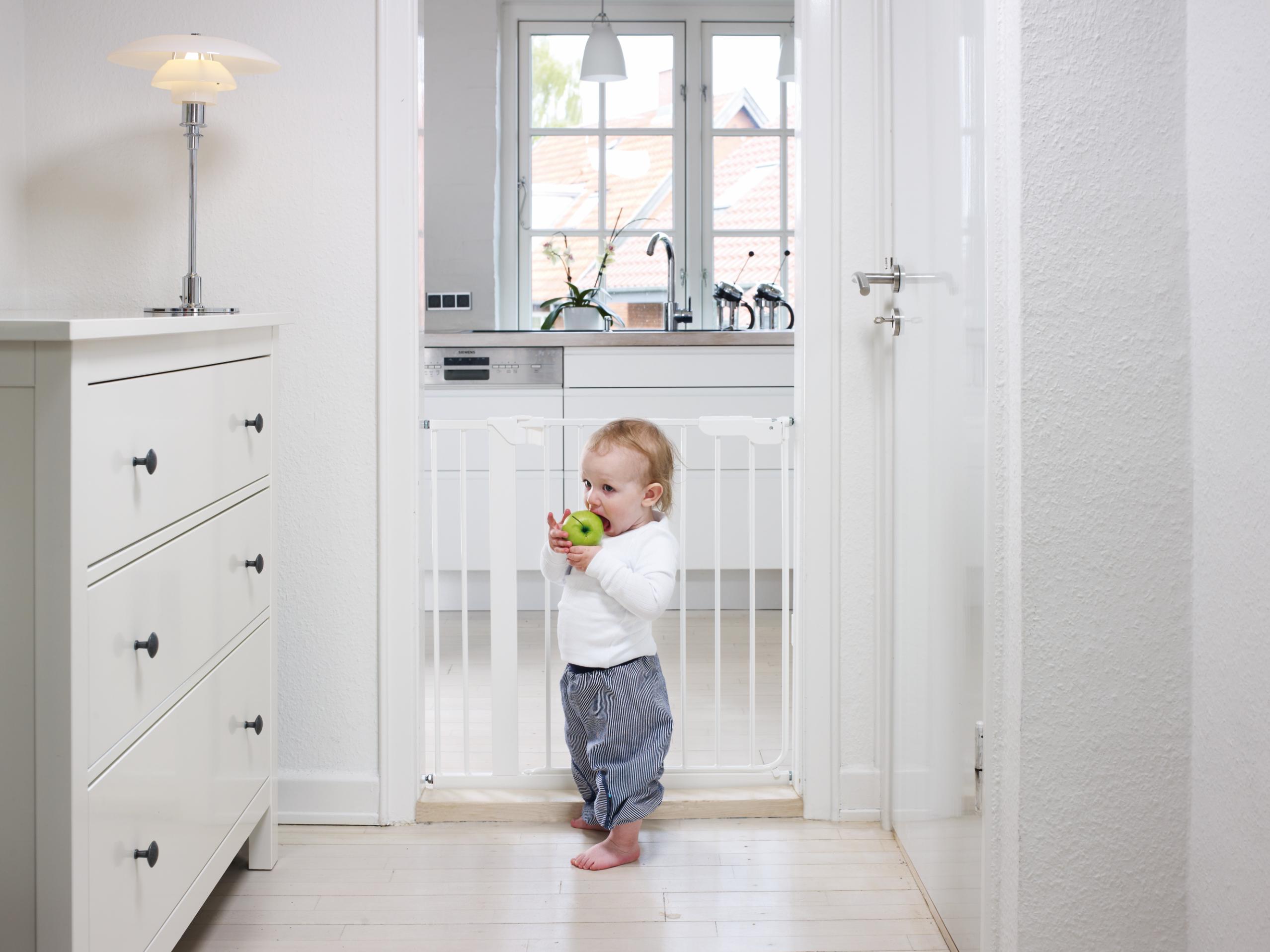 FSC® certified
BabyDan is an FSC certified company (license code: FSC-C130052), as we are extremely passionate about sustainability and safety. That is also why we only use FSC certified wood for our wooden safety gates.
This means that the wood comes from forests where trees are only harvested to the extent that the forest is able to replenish itself, and other controlled sources. It also means that both animals, plants and people working in FSC forests are well protected.
FSC is an international labelling scheme for wood and paper. As a consumer, the FSC label is your guarantee that the product you are looking at comes from a sustainably managed forestry operation.
New trees grow to replace the trees that are cut down, and the animals, plants and people who live and work in the area are all taken good care of. The FSC labelling scheme allows us to ensure that forests will persist and be there for future generations as well.
You can read more about the FSC label on their website.
Look for our FSC-certified products. You will find the information under material.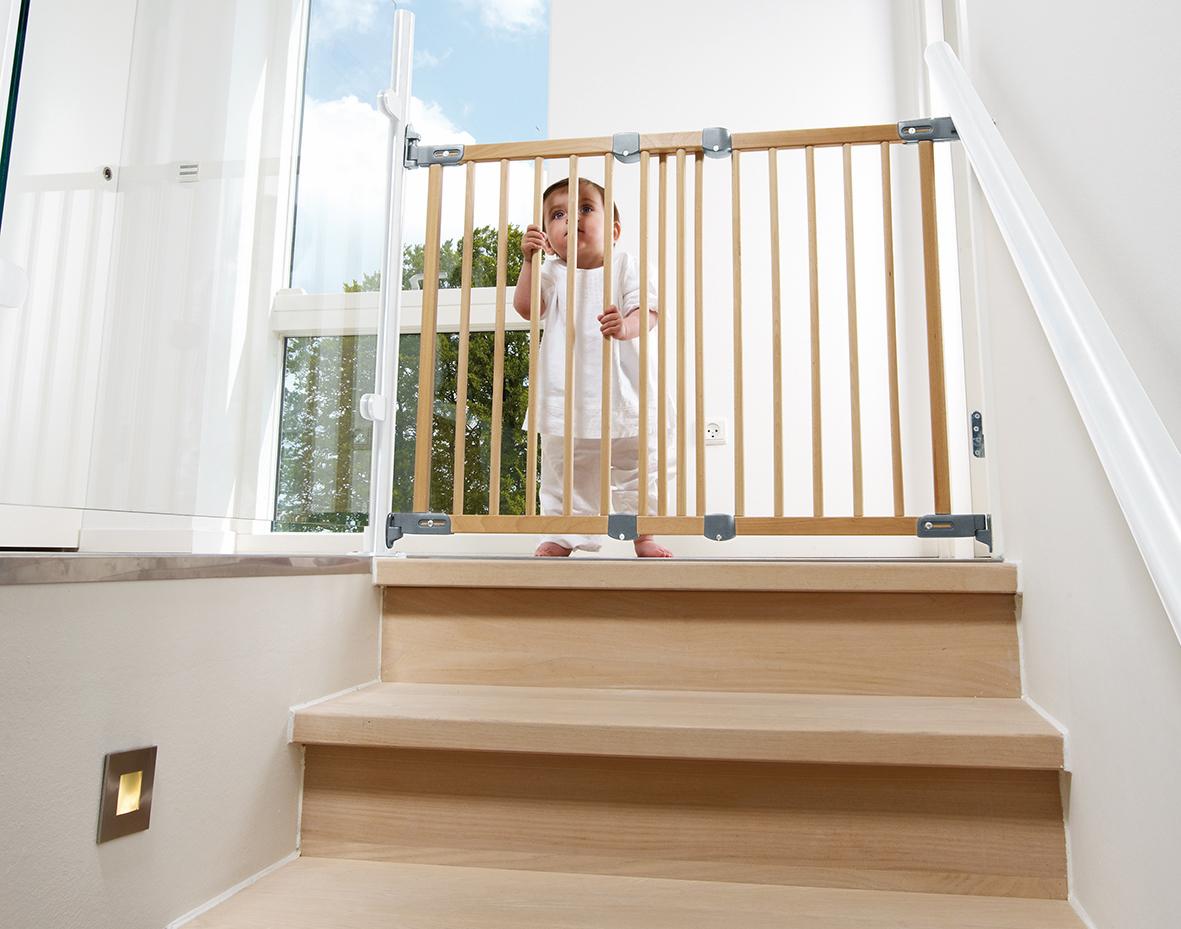 Responsible consumption
As a production company, we are very aware of our environmental footprint. Therefore, we do our very best to launch initiatives that are aimed at helping us to become even more sustainable in the coming years.
Our selection of materials, our production processes and the energy we consume all have an environmental impact. Whether it be the use of paper at the office or using iron in our production, even little initiatives can add up to make a big difference to the environment.
At BabyDan, we are all doing everything we can to reduce our consumption of gas, water, electricity and materials. We are monitoring and measuring the results of our initiatives on an ongoing basis.
Social sustainability
Safety, creativity and responsibility are BabyDan's core values. We are also convinced that these are the cornerstones of a sustainable company.
As far as possible, BabyDan produces its products at its own factories in Denmark. This allows us to have the best possible control of our environmental and quality processes.
At the same time, we are reducing our CO2 emissions from transportation and warehouses. We are proud to produce our products on Danish soil and creating jobs for the Danish economy.
BabyDan invests in the health, well-being and education of our employees, because taking responsibility and creating a good working environment makes us feel better and it pays off in the long run as well.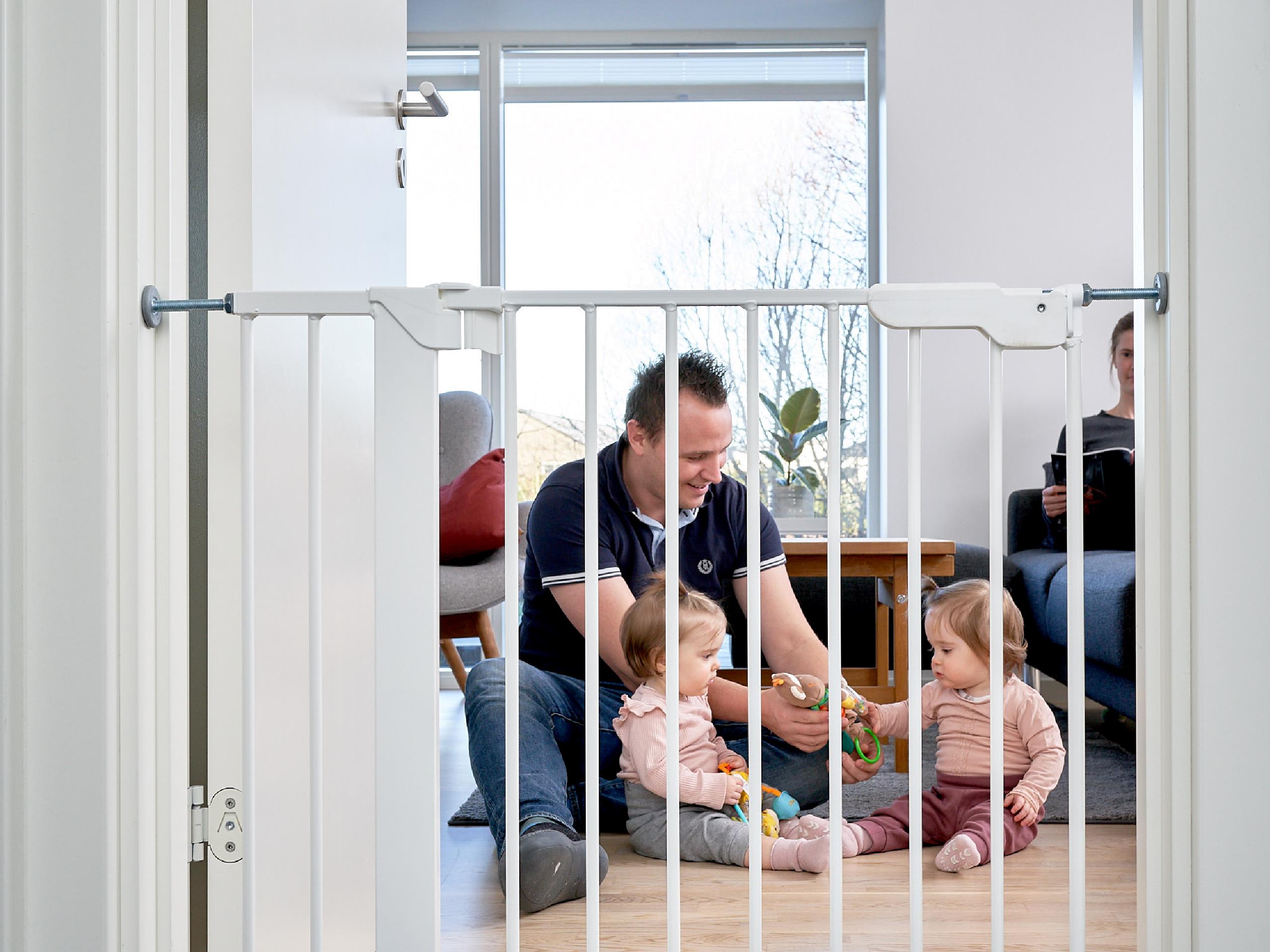 Recycling and sustainable materials
At BabyDan, we want a thriving nature, clean water and clean air, but what we used to be doing as a matter of course is now increasingly being re-examined.
BabyDan is actively working towards using resources efficiently. As a result, recycling and reusing products is very important for us. We are continually optimising our recycling system so that materials are as far as possible part of circular processes.
BabyDan has a number of guidelines in effect to avoid the use of chemicals in our production processes. Over the years, we have raised the bar further to ensure that our production processes do not result in the emission of harmful waste to nature and that carcinogenic or hormone-disrupting substances do not end up in products for children.
Our goal is to create safety products in a sustainable manner. Therefore, we like to challenge ourselves to come up with new and creative ways of producing home safety products - after all, only the best is good enough when it comes to our children.
Read more about our work with the UN's Sustainable Development Goals (SDGs)