Matters of the Heart since 1947
Becoming a parent is an amazing time in your life. But it is also a time filled with worries about how to care for your little one in the best possible way. One of our top priorities is to help you look after your child in the safest and most practical way possible.
We at BabyDan have that same natural curiosity that children also possess - we are curious about how we can create the safest and most practical daily life for you and your child, so that you will have less worries and just be able to enjoy spending time with your child. That is why our safety gates, which we developed and manufacture ourselves, are the world's safest gates. And we are very proud of that.
We also develop and manufacture small home safety products for the home. Additionally, we sell furniture, textiles and accessories for children's rooms and all sorts of baby products. In short: we are one of the world's leaders in safety products for children aged 0-3 years. And having spent more than 75 years in this industry, we feel confident to call ourselves one of the foremost experts in child safety.
We make the world's safest gates
We are one of the world's leaders in safety products for children aged 0-3 years. And having spent more than 75 years in this industry, we feel confident to call ourselves one of the foremost experts in child safety.
We go the extra mile for children's safety
We want to sing the praises of parents who protect their children and we want to go the extra mile for them - because that is what we do best. We are only satisfied once we have tested far above the safety standards and far beyond what is required by the law.
We do not stop once our products have reached the safety standard. If the requirement states that a safety gate must be able to withstand a pressure of 100, we test the gate with a significantly higher pressure. This at the very core of who we are, because the safety of children is of paramount importance for us in BabyDan. And we keep on testing and developing until we find the safest and best solution.
We hold ourselves accountable for your child's safety today and in the future
For us, children's safety goes beyond protecting them from bumps and scrapes. We believe that safety and sustainability are inextricably linked and that is the reason why we are at the forefront when it comes to sustainable and safe products.
Our safety gates are manufactured with materials that are so safe that your child can suck on the gate without being exposed to any harmful substances - and of course it stops your little one falling down the stairs and getting bruised too.
Our smaller home safety items are bio-based and the packaging is 100% biodegradable, so that neither your child nor nature suffers when using our cupboard locks or corner cushions to secure against tiny, pinched fingers and bumps on little heads.
The products we manufacture ourselves contain no harmful substances, while simultaneously ensuring that our children are not harmed. All of our wooden safety gates are FSC certified, which guarantees that we only use sustainable wood from sustainable forests. BabyDan consequently supports sustainability both directly and indirectly. And that is important to us, especially when it comes to our children.
We have more than 75 years of accumulated knowledge about children's safety
BabyDan has just over 110 employees at offices and manufacturing facilities in Låsby, Skovlund and England. If you ask us, we would say that we have the absolute best employees and they are loyal and extremely hardworking.
We have employees who have celebrated their 20th, 30th and 40th anniversary with BabyDan, and that speaks volumes - we "BabyDan'ers" care passionately about ensuring that you can have the best safety products for your child. It is a cause very near and dear to our hearts.
Danish design produced in Denmark
In order for BabyDan to expand its own manufacturing capabilities on Danish soil, the plastic company BD Plast was founded in 2015 as part of the BabyDan group. This meant that BabyDan became more self-sufficient in the production of plastic parts for BabyDan's safety gates and smaller home safety products.
BD Plast is a plastic factory with modern and robotically-controlled production machines manufacturing plastic components and finished safety products.
BD Plast is also where BabyDan's biodegradable safety locks and corner cushions are manufactured. Manufacturing the majority of our products ourselves in Denmark, allows us a greater degree of assurance that the production is of the highest possible quality and that it is considerate of the environment to the greatest possible degree.
Award-winning BabyDan products
BabyDan has won numerous national and international prizes and awards. BabyDan's safety gate BabyDan Guard Me has won the international and prestigious Innovation Award at Kind + Jugend, the world's largest trade fair for baby products. BabyDan's furniture range Angel by BabyDan has also won the Innovation Award at Kind + Jugend.
BabyDan's Cradle to Cradle product line with four small home safety products has recently won gold at one of the most prestigious award ceremonies in the world, the International Design Awards (IDA).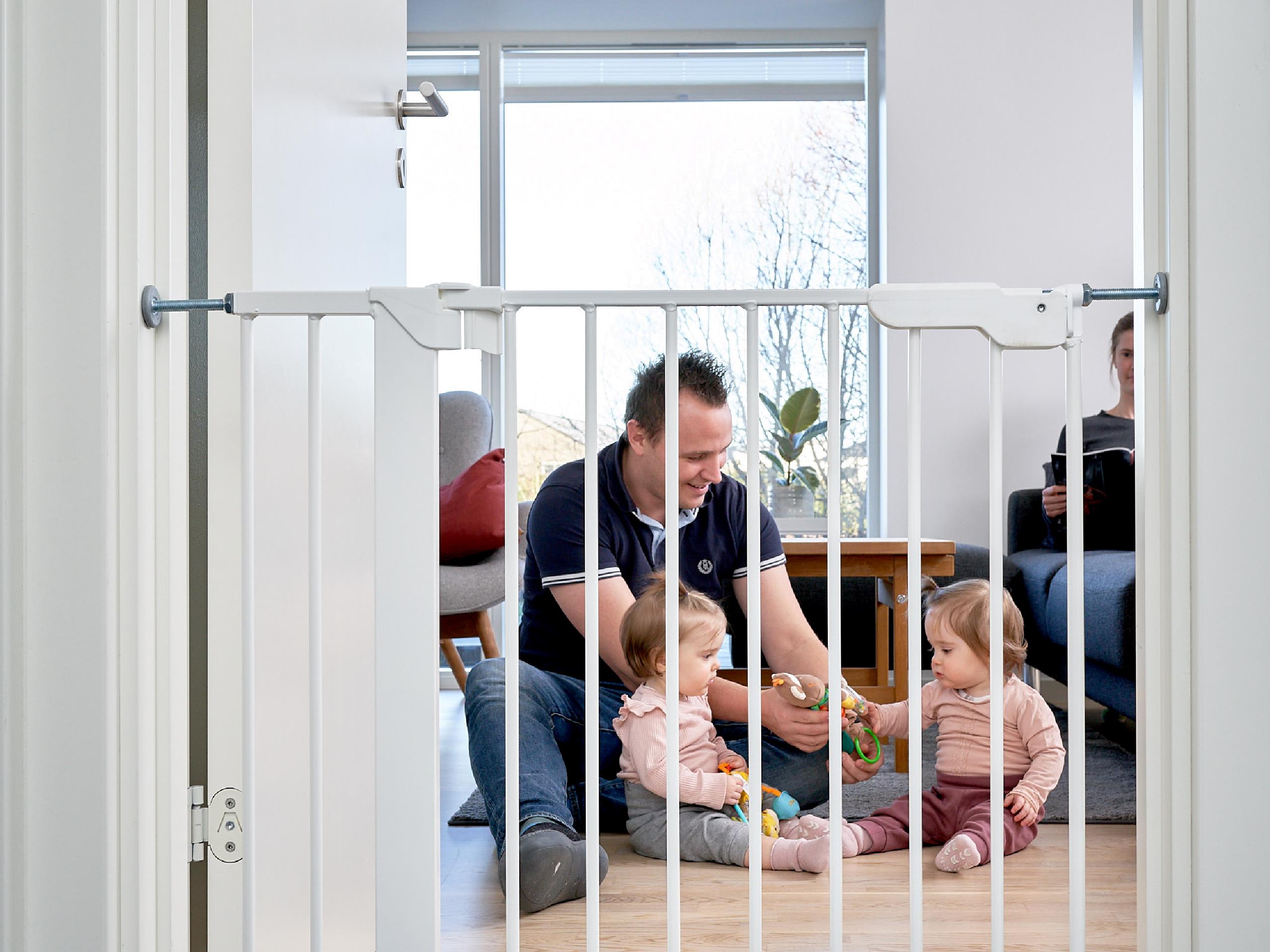 Safety for children all over the world
BabyDan is an international company and sells safety products worldwide. We want to help parents all over the world provide their children with a safe and good start to life.
Therefore, 90% of everything BabyDan produces is sold overseas. As an international company and manufacturer, it is very important to us that we adhere to the most stringent international safety standards and environmental certifications - so we can be sure that families around the world can benefit from our safety gates, safety products and all our other products for children.